NSDC Funded Affiliation - Overview
Catalyze the creation of sustainable and quality skills training institutions across the country.
Support and coordinate private sector initiatives for skill development through appropriate Public-Private Partnership ( PPP ) models, strive for significant operational and financial involvement from the private sector
Play the role of a "market-maker" by bringing financing in sectors where market mechanisms are weak or missing
Prioritize initiatives that can have a multiplier or catalytic effect on capacity and quality of skilling in India
The Funding Guidelines provide for a differentiated approach for 'for-profit' entity and 'not-for-profit' entity
For loan application please write to funded.proposals@nsdcindia.org. Applicants to visit NSDC office on Wednesdays between 10 am to 5 pm for proposal submission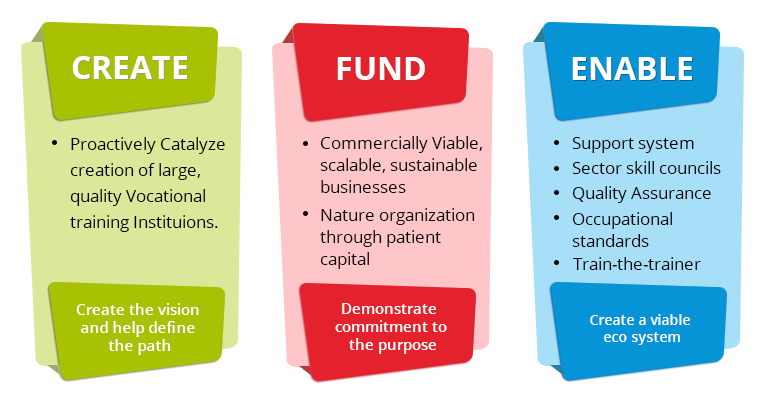 Key Elements of NSDC Funded Affiliation
Parameter
NSDC Funding Guideline
Eligibility
Any legal entity including, but not limited, to Company/ Society / Trust as per the process and applicable laws and guidelines
What Gets Funded

Total investment requirement towards –

Training Infrastructure (excluding the acquisition/creation of immovables);
Working Capital

Interest Rate
6% p.a.
Principal Moratorium Period
Up to 3 years
Interest Moratorium Period
NIL
Repayment Period
7 years (including moratorium period)
Promoters Contribution

Minimum 15% of the investment requirement ( not-for-profit entities )
Minimum 25% of the investment requirement ( for-profit entities )

Training Commitment
Standard Proposals
Corporates – Listed in BSE/NSE for more than 3 years with a credit rating of A- or above or foundations/similar ventures
Private Universities, Engineering Colleges, ITI, Polytechnics
Training Commitment

Standard Proposals
20,000 persons over 7 years

Corporates – Listed in BSE/NSE for more than 3 years with a credit rating of A- or above or foundations/similar ventures of such organisations
5,000 persons per centre over 7 years

Private Universities, Engineering Colleges, ITI, Polytechnics
5,000 persons per centre over 7 years

Placement Guarantee Commitment
At least 70%
Collateral

First charge on assets of the project
First charge on cash flows of the project
First charge on IP developed under the project
Personal Guarantee/ Corporate Guarantee/ Put-Option on another Associate Company
Pledge of shares to the tune of minimum 51% of the equity of the project implementing entity ( for-profit entities )
Pledge letters to be taken ( not-for-profit entities )
Post Dated Cheques
Hard collateral (including but not limited to bank guarantee/ mortgage of immovable property/ lien on fixed deposits etc.) covering minimum 30% of the loan amount
For loan application please write to funded.proposals@nsdcindia.org
Invitation for Proposal
NSDC invite proposals for funding in several sectors. Here you will find documents and guidelines to be followed to be an NSDC affiliated training partner.
Join the Skill India Mission by becoming NSDC training partner. To know more about the same
Workshops are organized from every Monday to Friday, 4.30 to 5.30 pm at NSDC office
Call NSDC training helpline number – 92892-00333, available from Monday to Friday between 9 am to 6 pm
Proposals Submission Guidelines
Proposal Submission Docket
These Technical & Financial templates are required to be submitted with all proposals along with the declaration.
Draft Agreement Docket
FAQs
FAQs- Funding, Non Funding, Entrepreneur, Training Institute
*Each non-funding proposal shall be subject to evaluation and due-diligence process of NSDC for shortlisting and acceptance.